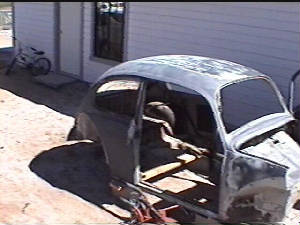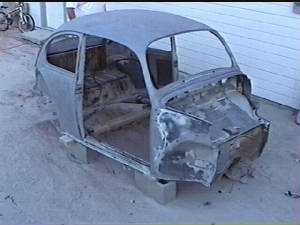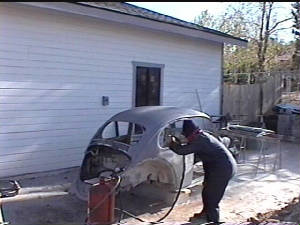 I decided to sandblast. There are other methods of getting the paint off without using silica. However, this worked fine for me. You have to be careful not to get too close to the body with the nozzle. This tends to heat up the metal and warp it. Not good!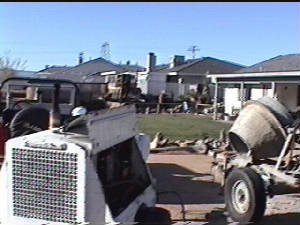 I have to tell you...you must have a pretty darn big air compressor to keep up with the sand blasting. I was lucky to have a friend with one heck of a large Ingersol Rand with some serious CMF. There it is next to the mixer. A 100+ gallon electric compressor just would not cut it.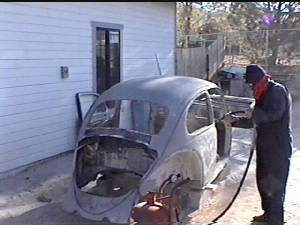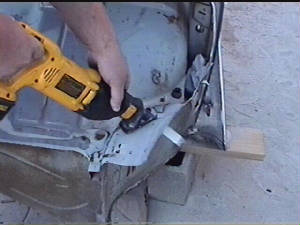 To your left you can see me as I work on the passenger side. It is very noisy and protection is a must... lungs (respirator) eyes, skin and ears>>
Just above that picture you can see me cutting off the front end. I wanted to lighten this car up a bit with a one piece fiberglass front.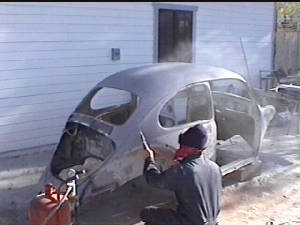 It sure was a messy afair. Sand was all over the place when I was done. It was worth it in the end. I had no worries about chemical paint removers (if I would have used it) hiding in some crack waiting to give me head aches when starting the priming and painting. Hmmmm. I think every now and then I still pick a little sand out my hair. Use a head shroud!